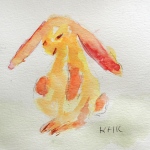 This cute little bunnie had a lovely luncheon of carrots. She is also on a note card that I made. Several people have ordered cards. They are $4 each.
Kathleen Hazlehurst Knust is an avid sailor who loves the Chesapeake Bay and has done numerous paintings of the Bay's greatest treasures.
She also sails to distant shores and returns to her native Maryland with paintings of her voyages.
She is a master gardener and an accomplished sailor who has won the US Sailing highest award, The US Sailing Arthur B. Hanson Rescue Medal for rescuing five people who capsized in the Chesapeake Bay.
The above is what I put on the back of my cards, and then I put the title of the piece below this.
These are both watercolors.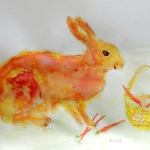 This bunnie was so happy to have a basket of carrots instead of those "silly" Easter eggs. These are her words, not mine.