Just a reminder, you can join us on Saturday.
One of my painting friends is volunteering
We will be in my grey Volvo wagon with the tail gate worthy of a Ascot Race
I was at an Ascot Race many many moons ago with my great aunt who had met the Queen several times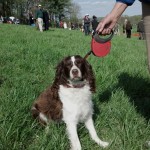 This dog was at the Grand National Race last year and I have painted her so many times, so if you know who she is, please let me know.
  One my paintings of her was in the Fur and Feather Show at the Schuler School of Fine Art,
and today I learned that I sold my fox painting there on the weekend of the show.
I was so pleasantly surprised.
I have learned from several artist friends, especially dear Nancy van Meter, how to price things.
Thank you Nancy, I still have to find my painting of the dear departed soul at Stiles'
I so enjoyed doing the painting
I have a photo of her owner, yet again, we value people's privacy.