McFauls' oyster stew is perfect for a cold evening. I wanted to order a second serving.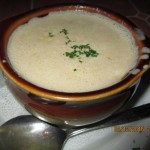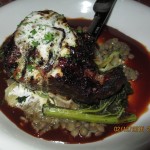 They use local products, beef, chicken and veggies.
This perfect filet with lentils, leeks, and greens was perhaps from Albright Farms.
They have yummy seafood tacos and of course, a raw bar.
Their New Year's Eve party was just right. It was in the back bar section after the last dining rooms were empty. There was a small yet yummy buffet and a comfortable group of familiar faces.
Please visit their menu to see their choices and specials.
www.mcfaulsironhorse.com