Enjoy the resurgence of Spring with an exhibit of paintings by
EMILY GAINES DEMSKY
"Grow into the Light"
on view through April 30th.
"imperfection" by Emily Gaines Demsky, 2015
acrylic on paper, 38″ x 50″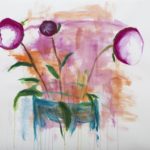 "Grow into the Light"
works on paper exploring our perception of flowers
March 5th – April 30th
"The paper whites in a pot on my dining room
table lean hard toward the window;
I can see them reaching for the light
in the angle of their stems and their blossoms.
And don't we all reach for the light?
Flowers connect us to the natural world,
they elevate the everyday, they remind us to grow
toward the forces and sources that sustain and feed us.
My paintings are studies of the flowers before me,
and they are a conversation about perception,
struggle, and the passing of time. I come back,
again and again, to the bright colors and repetitive
shapes and something slightly askew.
I come back again and again to the light."

The Nance Meets the Juggler
by Nelson Adlin, archival print, 9″ x 13″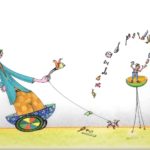 We were sad to receive the email from Nelson's son, Josh:
"…after 91 years, Nelson Adlin put down his palette."
Nelson had continued to create even throughout his
treatments for cancer. An obvious sense of humor permeated
his work, whether it be an illustration, painting, photograph,
sculpture or a piece of jewelry.  Even his personalized hand-
drawn cards were truly treasures to those who received them.
Nelson was a well-loved source of inspiration as an art professor
at Community College of Baltimore, and he, along with his wife,
Lily, became historic building renovators in the Fells Point/
Butchers Hill/Canton areas.  A man who seemed to carry
sunshine with him wherever he went, Nelson and his
characters will truly be missed. Our hearts go out to his family
and the rest of his loved ones.
Upcoming:
May 7th  – May 28th
Personal Myths
Fanciful Paintings and Ceramics by
DANA SIMSON
"Indian Girl" (name of canoe) by Dana Simson,
Oil on Canvas, 2016, 28″ x 36″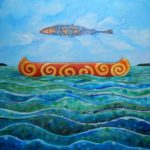 *Artist Reception*
Saturday, May 7th, 5-8pm
Illustrator, ceramicist, author and designer Dana Simson
has exhibited in over 400 galleries. She maintains a large
studio in an historic hotel located on Maryland's Eastern Shore,
and she is greatly inspired by the Chesapeake Bay surrounding
the historic island home she renovated with her husband.
The area was once home to a large Native American
community. A family myth asserts that her Great-Grandfather
taught the Indians how to canoe…
Dana writes:  "I find inspiration in the cycles and patterns
of nature. The opportunity in each day to journey forward
through our complex and untamed world,
always humbled, ever amazed."
See you soon!
Fleckenstein Gallery & Archival Framing
3316 Keswick Road, Baltimore, MD 21211
410-366-3669
Tuesdays-Fridays 11am-7pm
Saturdays 11am-5pm and by appt.
http://www.fleckensteingallery.com
[terrie@fleckensteingallery.com]terrie@fleckensteingallery.com