Ryleighs has a lunch special that can not be beat.
$10 for a sandwich and a cup of soup, with a choice of chips or fries. There is only a $2 upgrade for cream of crab or veggie crab soup.
The "sandwiches" all sounded yummy.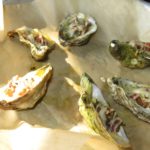 As an appetizer, we had grilled oysters and corn with feta and Old Bay.
We had tempura shrimp wraps and red pepper shrimp soup.