We stopped at Joe Squared on North Ave for a bite of lunch, after a business meeting and created a yummy pizza…
Caramelized onions, mushrooms, gooey cheese and garlic. A fourteen inch pizza is huge.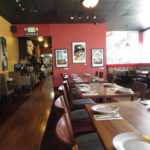 All sorts of people hop in for a bite, students, business people, and out of towners who have seen Joe Squared on Best Eats.